3 Exotic Accessories That Create Unique Texture In Your Outfit
BY LIV MCCLINTOCK, PHOTOGRAPHED BY KIA CALDWELL
Caftans are a resort staple that has a permanent place in our visions of easy living on beautiful beaches and crystal waters. So often they come in an array of colorful prints as bright as summer itself. If you want quick one-piece dressing that's comfortable and still has a little drama, a caftan could be a great choice. Don't limit your use of caftans to just a beach cover-up. Short caftans are a great way to dress up a pair of leggings, add your favorite strappy heels or booties and you are ready for happy hour.

Though usually a summer staple, caftans are versatile enough to work across seasons. It can be difficult to find a caftan that works for warm and cool seasons without looking out of place. Our Sandy Caftan Dress fits the bill with wonderful tie-dye swirls of cream, sand, brown and garnet. This print has just enough balance of neutrals and color to make it wearable from Spring thru Fall. Longer sleeves, wider off-shoulder neckline and a belt ready design add just the right touch of drama for evening affairs.

It's always great when an outfit will take you effortlessly from day to evening. Who doesn't love a riverboat cruise or a rooftop picnic that flows lazily into an evening firework show.
How do you take this caftan dress and maximize its wear value? How do you make it work across seasons? How do you create a unique look that sets this dress apart from someone else? The answer is in the skillful use of accessories.
We want to add another dimension to our look by adding in exotic textures that play well with the neutrals and colors.
We start by adding a subtle touch of metal to ears with polished teardrop shell earrings. Natural streaks of sand and creamy mother of pearl topped with 10kt gold ear wires. With just the right amount of dangle they give's up-do's a touch of bohemian allure.
Riverboat cruises are perfect occasions for our versatile M St. Tote bag. With a durable cotton canvas interior, it is roomy enough to carry all your daytime essentials and a light cardigan. Mocha and brown coloring blends well with our caftan and gives this bag enough versatility to go with jeans or casual suits. A beautiful Cayman Croc emboss with a low-profile finish gives this bag an understated feel of luxury without feeling stuffy.
If you really want to shake up an outfit, an unusual and eye-catching exotic such as Ostrich, always delivers. Here we use a hand dyed Ostrich embossed calf leather. The variations in tone and texture play well with this tie-dye caftan. The removable wrist strap and lovely contrasting colors make our handstitched A-train zip wallet an elegant choice for work lunches or window shopping. Combine the Ostrich zip wallet and our Gallery Corset belt with your one-piece pantsuits for an undeniable designer look.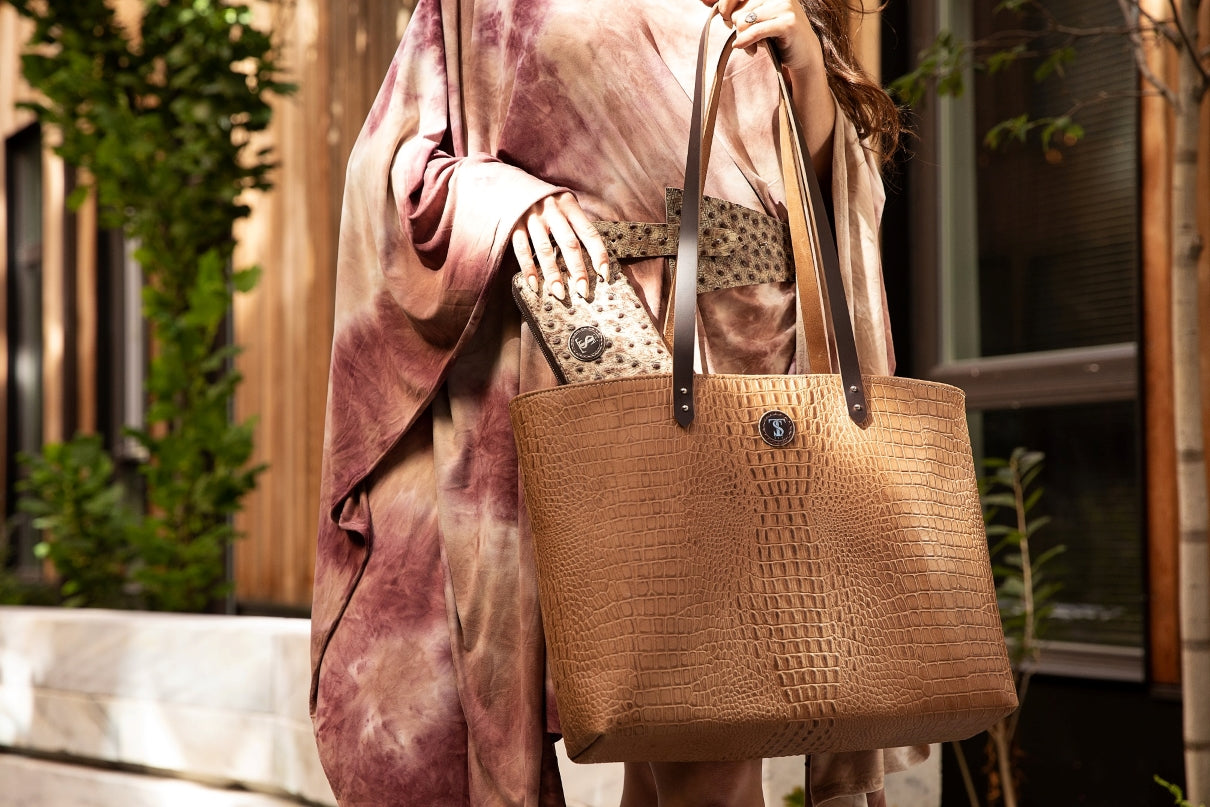 Layering the Gallery Corset belt over natural linen or sweater dresses can add a beautiful effect. This statement belt, with its minimalist cut, exquisite Ostrich emboss, smooths the waistline. Here is where exotic animal textures shine, by adding complimentary layers of interest. Dresses that have lots of volume can be tamed creating a silhouette that shows of the waistline or creates one.
Town & Shore Handcrafted is all about accessorizing your look with outstanding pieces. These featured items apply eye-catching texture to your outfits, giving a greater range of value from your existing wardrobe.
Stop by our boutique in downtown Wilmington Delaware to see our expertly made leather bags and accessories. Our location is 221 N Market Street Wilmington DE 19801, just two blocks from the riverfront.
Lookbook photography and written content shown above are under the copyright of Town & Shore Apparel Inc. All rights reserved.
Live the Life
Where to Wear It - Music

Only a short walk from the Cooper apartments is one of Wilmington's liveliest spots for musical entertainment. Acts cross a wide variety of genres from rock, R & B to comedy. The Queen is great location with public parking conveniently located in monitored garage across the street. Take in a show and afterwards take your pick of restaurants and craft brew pubs to finish out the night.

...Find Things To Do In Wilmington

City Living at The Cooper

Our August '23 lookbook was photographed by the new Cooper apartment building in Wilmington's downtown. BPG created a beautiful addition to the 200 block of lower Market Street (LoMa District) by artfully incorporating a piece of history into the building. The steel facade of the old Cooper Furniture store, built in the late 1800's, beckons you at the entrance of the Coopers gorgeous courtyard. For those looking for easy living in a vibrant friendly neighborhood, luxury amenities and excellent access to mass transit your search should start here. The 300 & 200 blocks of Wilmington's lower Market street puts you in the heart of festivals and access to some of the most scenic biking and jogging paths in the city.

Explore Living at The Cooper

Where to Wear It - River Cruise

If you are looking for a memorable way to throw a party, check out Wilmington's Riverboat cruise service. Perfect for birthdays, anniversary parties or just to celebrate yourself! They have a variety of boats and offerings that fit many different events. Book a catered cruise for your special event or take in the sunset and watch fireworks.

Riverfront Wilmington Cruises